Lancaster Kia Makes It Easier to Shop Here for Years
One of the most important aspects of car shopping is finding a dealership that you can build a lasting relationship with to visit for years to come. It is true that not all dealerships are created equal and Lancaster Kia is a testament to that. When you shop with us you will be able to become a member of our Rewards Card Program which will allow you to take advantage of some incredible specials to make our dealership special!
When you are a driver in Lancaster, PA there is no better way to shop for your next car when you visit our dealership. Through this program you are able to get a free oil change after four, discounts on parts and service, referral awards, a loaner car at no cost during scheduled services, a car was voucher, and a discount on accessories! All of these features will make it possible for you to enjoy your car for longer and can utilize this program at a selection of other dealerships in Lancaster County!
LCM Rewards Card Program - Lancaster County Motors
As part of our commitment to providing a rewarding sales and service experience, we offer our Rewards Card Program which provides you continued savings throughout your ownership.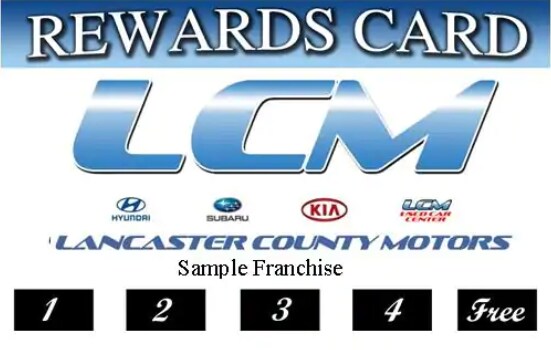 The Rewards Card Programs is as follows:
No Charge PA Safety Inspection for Orginial Owner. Pass or Fail. When combined with PA Emissions Inspection.
Buy 4 Oil changes, get the 5th one free. Good for ANY car in the same Household up to equal value.
10% Reward Points on all Parts and Service purchases go towards money off your next vehicle purchased at our dealership. Good for ANY vehicle in the same Household.
Referral Rewards: First 3 referrals earn you $50 each, the 4th $100. Owner must purchase our vehicle and make refferral information known prior to sales agreement.
No Charge Loaner car provided for 30k, 60k, 90k, and 120k Mile Services. Must schedule with appointment.
Car Wash Voucher to our Toutchless Carwash after servicing.
10% off all Accessory Purchases. Labor not included***
Programs effective at our Lancaster County Subaru, Hyundai, Genesis, Kia, and Pre-Owned Dealerships located on the Manheim Pike, East Petersburg, PA.
Some Restrictions Apply. See Dealership for complete details.
Getting the chance to build a lasting relationship with our dealership through our Rewards Card Program is incredibly easy and will make shopping here special. Thanks to this program you will be able to enjoy your car more than you could ever have imagined. Come on over today and talk to someone at the dealership to learn everything about this program and see how you can apply. See you soon!
***Discounts not good in combination with other specials or offers.